Message from President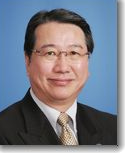 Toyooki Kogyo Co., Ltd. , as a supplier of intelligent fluid power system, has been engaged in the three pillars of businesses such as hydraulic
and pneumatic systems, various kinds of inspection and testing machines and automotive parts worldwide.

Based on our core technology of hydraulic and pneumatic systems and up-to-date control technologies, we have the honor of offering
the commodities ranging from functional parts to integrated products which widely contributes to our customers' effective manufacturing
activities and economical use of energy.

Hand in hand with all our staff of young and old together, we are aiming at making a social contribution widely by offering the
commodities which are earth-friendly, best and unique to the field as a result of cherishing our "Japan's manufacturing principle" and
challenging a new field all the time.
From now on again, we will engage ourselves to get together so that we can keep offering high-quality and fascinating commodities
to our customers' satisfaction in time.
We all appreciate your everlasting support and understanding to our business.
Sincerely yours,

Yusuke Horiuchi, President